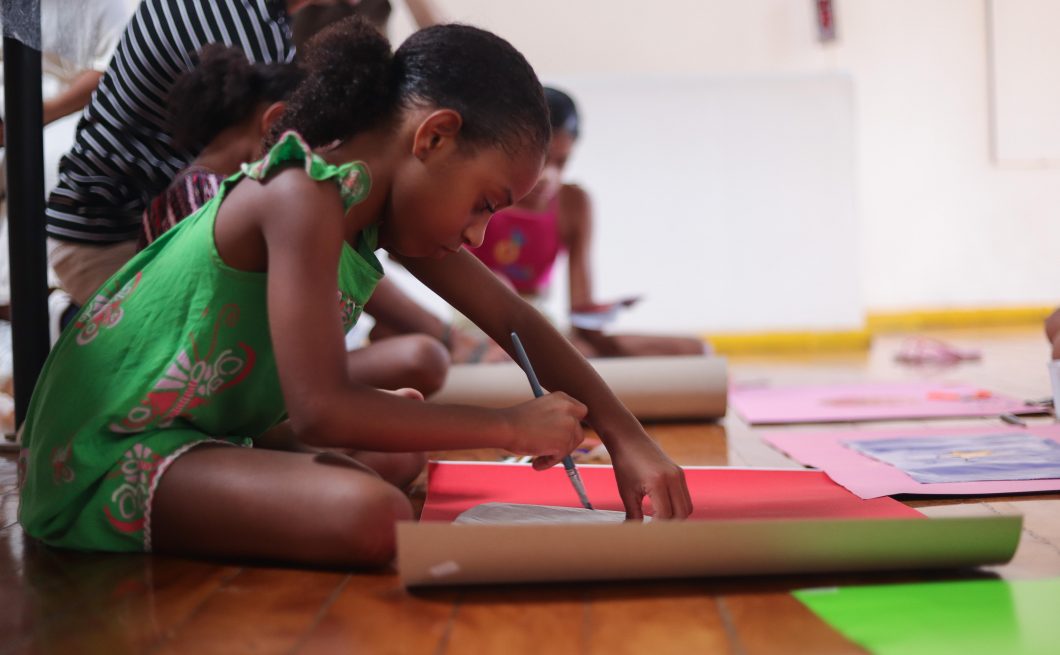 Projetos
Educational Program | Caminhos Para Gamboa
"Caminhos para Gamboa" is an educational program at the Inclusartiz Cultural Center, located in the Gamboa neighborhood, facing Praça da Harmonia, in the heart of the Port Zone of Rio de Janeiro. This region has been undergoing urban and cultural changes since long before the foundation of the city and is the place where revolts and other important passages in the history of Brazil broke out, becoming a complex and fertile space for questions.
The initiative, as its name reveals, has this region as a transversal axis for these educational experiences. From this, what can a cultural center contribute to safeguarding and making visible the historical importance of the territory? Can a cultural center be an extension of a classroom and promote other teaching and learning processes? Can a cultural center promote citizenship and socio-educational development? Can an art space discuss and promote public policies for science, culture and education?
We invite school communities and families from the neighborhoods that correspond to the port region of Rio de Janeiro to participate in the Educational Program "Caminhos para Gamboa", consisting of artistic-pedagogical workshops, mediated visits to the exhibitions, the square and the historic building's premises, roundtables, performances, theatrical plays, storytelling, fairs, book launches, concerts, among other actions in dialogue with the historical and cultural importance of the Gamboa neighborhood, its personalities and local entrepreneurs, as well as its symbolic value, creative and economical for the city.
The program consists of free and continuous training on art, education, culture and history of Rio de Janeiro, with priority audiences being residents of the port region, public school students, educators, artists and cultural professionals. This program develops education as a practice of experimentation and creation of methodologies that encourage different ways of generating and sharing knowledge, promoting technologies to support the territory and ethnic-racial relations. Thus, we seek to deal with the diversity of audiences through activities whose principle is to disseminate traditional, local and academic knowledge, encourage collective learning, create opportunities for discovery and protagonism, inclusion and meeting of different ages, realities and forms of communication.
The "Caminhos Para Gamboa" Program is divided into five guiding nuclei, namely:
1 – Free experimentation in contemporary art
Age range: 6 to 15 years old
Cycle of regular workshops to experiment with artistic practices, thoughts and languages ​​such as: painting, drawing, sculpture, collage, among other methods of bringing the public closer to contemporary art; in addition to meetings with local artists, residents of Inclusartiz programs and names from the Rio de Janeiro circuit.
Classes take place in person at the headquarters of the Inclusartiz Cultural Center and also at the headquarters of educational institutions, with prior scheduling and with priority for school classes.
2 – Art and School Community – Inclusartiz in Schools
Age range: 6 to 15 years old
Cycle of presentations and artistic-pedagogical workshops given by educators and artists invited by the Inclusartiz Cultural Center for the school environment around the port region, creating connections between art, education and territory, working on the construction of joint methodologies with teachers that can contribute to the school routine and its teaching and learning processes.
To start this action, we will start with the "Artistic Experimentation Studio – Tia Lúcia", composed of workshops on artistic procedures adopted by the artist and educator Tia Lúcia, a resident of Morro do Pinto and known for a large part of Gamboa, Providência, Largo da Prainha and other locations in the port region.
3 – Paths to Gamboa – Guided Visits
Age range: free
Mediated visits with school and non-school groups, teachers, directors and other interested parties, by appointment or in flow, always in dialogue with disciplines, knowledge and perspectives present in the exhibitions on display, presenting the premises of the Cultural Center building, in addition to bringing visibility to the historical and cultural importance of the Gamboa neighborhood and its crossings and urban changes.
4. Art, Culture and Society – Gallery Conversations
Age range: from 16 years old
Cycle of conversations with artists, curators, educators and personalities from inside and outside the universe of art and culture who develop actions around the creative economy and sustainable socio-environmental development.
5 – Neighboring Connections – Domingos na Praça
Age range: free
Monthly meetings that take place every last Sunday of the month at Praça da Harmonia, considering the square as a fertile site for sharing and exchanging knowledge. with shows, workshops, storytelling, performances, fair with artisans and local artists; in addition to a delicious breakfast dedicated to the space for meeting and communion between our neighbors in Gamboa.
The "Caminhos Para Gamboa" Educational Program is a space for overflowing the actions of the Inclusartiz Cultural Center to the territory in which it was implemented, promoting and believing in the autonomies and potentialities of the subjects that build the region. Created and coordinated in permanent listening with the neighborhood, with school and non-school spaces, with teachers, pedagogues, artists, educators, with our neighbors in Praça da Harmonia and other visitors to the region; in addition to companies and cultural institutions, businesses and local entrepreneurs. The program aims to make a positive contribution, through art and education, to the training processes of children and young people, strengthening their bond with the territory and expanding the participatory relationship between the cultural center, school communities and the creative economy of the territory, with its ways of seeing, thinking, interacting and building the city.
For bookings and more information: atendimento@inclusartiz.org or Fernando Porto: +55 21 97517-1241
The educational program of Instituto Inclusartiz is sponsored by VLT Carioca and Instituto CCR.