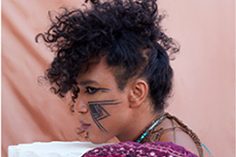 Residentes
Manauara Clandestina
Biography
Manauara Clandestina (Manaus, Brazil) is an artist whose works dialogue with new perspectives on the transvestite life and question the conditions of existences that permeate them.
Born in Manaus, the daughter of a couple of missionary pastors, she still went on missions to the interior of the Amazon with her family. From an early age, she sang in the church and helped with the organization of the theatre and other expressions that fit the Pentecostal evangelical cult. On her return to Manaus, during her adolescence, she had her first contact with an amateur theatre group, in which she desired to learn more about performance. Clandestine life brought her to the biggest capital of the country, and, in the middle of a transition and the need to be heard, Manauara Clandestina was born, as a performer of the night. Today she still performs, having expanded her languages beyond that format, developing her work as an artist in a transversal way. Currently, in addition to her research, she is dedicated to the direction of creating projects with the stylist Vicenta Perrotta.
Manauara Clandestina is the forthcoming artist-in-residence at Delfina Foundation in collaboration with Instituto Inclusartiz from September to November 2020.