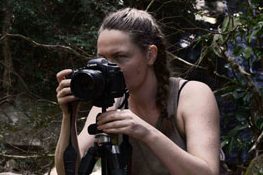 Residentes
JENNIFER PATTISON
Jennifer studied at the London College of Communications receiving her Bachelor of Arts Degree in Photography in 2000. Having begun her career as a photographer agent Jennifer began focusing on her own practice in 2012.
Jennifer has received numerous awards internationally including second prize at the Taylor Wessing Photographic Portrait Prize 2012, first prize at the International Photography Awards 2013, Magenta Flash Forward emerging photography winner 2013.
In 2014 she exhibited this year at the National Portrait Gallery and Four Corners London. Her work has been published in the Financial Times Magazine, Port Magazine and the British Journal of Photography among others.
She spends her time developing personal work and undertaking commissions. Her work is part of several private collections internationally. In September 2014 she was the artist in residence at Instituto Inclusartiz, Rio de Janeiro, invited by the collector Frances Reynolds.
Part One – Levitation, Ice and the Limits of Reality
As a child, I loved to read books that were full of magic. While playing in the wild woods where I grew up, images from these miraculous stories would transcend the limits of my thoughts and become almost real. Memories of these moments have stayed with me into adulthood. But as an adult, I have found it difficult to find the space to experience esoteric events, given the western culture I've grown up in, which says these things do not exist. I thought I had lost the ability to manifest imaginings to my childhood.
It wasn't until I read books such as The Wind-Up Bird Chronicle by Haruki Murakami, One Hundred Years of Solitude by Gabriel García Márquez and The Magus by John Fowles that I realised I still had the capacity to do this. The words in these books triggered tangible feelings in me, and vivid images, that I had not experienced since I had stood in that Sussex forest as a child.
This project is a work-in-progress. I photographed Part One, in Rio, in Brazil, and was inspired by One Hundred Years of Solitude. I found inspiration in the natural world García Márquez describes in the novel – a real world setting combined with supernatural elements, enchantment and mystery. It is a reality where a woman levitates and disappears into the sky, but the event is described in a way that makes it seem as commonplace as the falling of rain.
In a similar vein, the author portrays something as mundane as ice with such wonder and awe, that it too becomes magical.
My intention was not to re-stage events from the novel, but to use it as a springboard to provoke a playful, and perhaps naïve way of looking.
While I was in Rio searching for locations to shoot the project, I never felt alone. Creeping alongside me were the aerial roots of orchids, clinging onto every tree, and string-like tendrils brushed the top of my head as I passed beneath them. At times I thought I could hear the plants growing. This ancient, green place was full of stories. It was as though the plants were weaving through my camera's lens into my photographs to form part of another 'real' world.
Additional Information
EDUCATION
-1997-2000 BA (Hons) Photography, LCC, University of The Arts London
SOLO EXHIBITIONS
-January 2013: The Stare Show, Labyrinth, London
-February 2012: Painted Faces In Front of The Moon, London
SELECTED GROUP EXHIBITIONS
-May 2015: STARE, Four Corners, London
-December 2014: Salon 14, Photofusion, London
-April 2014: A Year In Development, Four Corners, London
-February 2014: Mystery Portrait Postcards, The National Portrait Gallery,
London
-July 2013: Taylor Wessing Photographic Portrait Prize, M-Shed, Bristol
-February 2013: A Year In Development, Four Corners, London
-November 2012: Taylor Wessing Photographic Portrait Prize, The National Portrait Gallery, London
-February 2012: A Year In Development, Four Corners, London
AWARDS
-September 2014: Honorable mention, International Photography Awards, U.S.A
-April 2014: Shortlist, International Print Exhibition 157, Royal Photographic Society, Bath
-September 2013: First Prize Winner, Fine Art Nudes, International Photography Awards, U.S.A
-May 2013: Winner, Magenta FlashForward 2013
-November 2012: Second Prize Winner,Taylor Wessing Photographic Portrait Prize, The National Portrait Gallery, London
ARTIST RESIDENCIES
-October 2014: Instituto Inclusartiz, Rio de Janeiro, Brazil
ARTIST TALKS
-May 2015: Panel discussion about Instituto Inclusartiz artist residency with fellow artists in residence Guler Ates & Cristina de Midell, The Royal Academy, London, UK
-April 2014: BA Photography, University of the West of England, Bristol, UK
-January 2014: BA Photography, School of Art and Design, Coventry University, Coventry, UK
-November 2013: BA Photography, City College Brighton and Hove, Brighton, UK