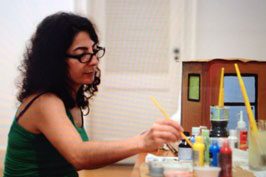 Born in 1977 in Eastern Turkey, Güler Ates has been living and working in London for the past 16 years. She graduated in 2008 from the Royal College of Art with an MA in Printmaking. That same year, her work was featured in the New Contemporaries show. Currently, she is Digital Print Tutor at the Royal Academy Schools. Her work can be found in the print collections of the Victoria & Albert Museum and the Royal Academy of Art as well as the MAR. Recently, her work was shown in the 2014 Summer Exhibition at the Royal Academy as well as solo exhibitions in Amsterdam (September 2014) and Rio de Janeiro (April 2014). In addition to the 2014 residency in Rio de Janeiro, Ates has completed other residencies in India (December 2012) and Turkey (Art Suites International Workshops – September 2014) and will undertake another residency in January 2015 at Eton College in the UK. In 2015, Ates will have two solo exhibitions in London with Art First and Marcelle Joseph Projects at House of St Barnabas.
Dwelling: Rio de Janeiro
Dwelling: Rio de Janeiro is the new body of work created by London-based Turkish artist Güler Ates during her month-long residency with Instituto Inclusartiz, in Rio de Janeiro. The new work consists of two videos, film stills, photographs, a sculptural work and a recreation of a performance that premiered at the Museu de Arte do Rio (MAR) in Rio de Janeiro in March 2014.
In line with Güler's prior time-based practice, her new work explores nuances of identity politics as seen through the lens of the artist's own experiences of cross-cultural displacement as a woman born in Eastern Turkey but raised in a shantytown in Istanbul. This personal experience inspired her new performative work entitled Dwelling where a 21st century woman fully covered in swathes of silk reminiscent of a "veil" with all its contemporary Western readings walks down the streets of Rio, alongside local residents, with dozens of miniature hand-painted and individually lit favelas attached to the train of her costume. Ates explains, "I wanted to move a shantytown from Istanbul to different locations in Rio de Janeiro so people can see it in a different perspective and relate to their own experiences in their own country or debate about the global housing issue." This juxtaposition of Middle Eastern exoticism and vernacular architecture are common themes in Güler's practice.
In another performance entitled Home, that was filmed using super8 film and represented in this exhibition as a series of film stills, the veiled model strains as she walks across the pavement in Lapa, a neighbourhood in Rio famous for its architectural monuments and bohemian culture, pulling a small house behind her, evoking the expression "home is where you are", regardless of nation, ethnicity, gender or religion. According to the artist, her aim was to "explore the mental home that we carry wherever we go and how that is already embedded in our mind."
Other new work in a series entitled Object incorporates local everyday artefacts such as kitchen utensils found in every lower class home in Brazil. Cognizant that certain objects can become imbued with a sense of nostalgia or feelings of belonging, the artist appears to have discovered her own cerebral home in the fascinating culture of Brazil.
Text written by Marcelle Joseph
Additional Information
SOLO EXHIBITIONS
Fantasma Nel Silenzio, Spazio Nea, Napoli, Italy, 2015
Stilled, Art First, London
Dwelling: Rio de Janeiro, Marcelle Joseph Projects, London, 2014
Sound and Silence, Marian Cramer Projects, Warmond, The Netherlands
Open Studio, Instituto Inclusartiz, Rio de Janeiro
Whispers of Colour, Kubikgallery, Porto, Portugal
Zenana, Marian Cramer Projects, Amsterdam, 2013
Books of Dust, Royal Academy of Arts, Cafe Gallery, London
Trace of the Traceless, The LOFT at the Lower Parel, Mumbai, 2012
Threshold, Art First, London
Unveiling the Veil, Marian Cramer Projects, Amsterdam
Present and Absent, Great Fosters, Egham, 2011
No past is mine, no future; look at me!, Leighton House Museum, London, 2010
Fusion, Gallery Point-1, Okinawa, Japan
Veiled Mozaic, The LOFT at the Lower Parel, Mumbai, 2009
Projects at Christ Church Spitalfields, London, 2005
SELECTED GROUP EXHIBITIONS
2015
Journey, Jewish Museum, London
Embassy of Brazil Visual Arts Award 2015, London
SP-Arte, Luciana Caravello Arte Contemporanea, Sao Paulo
2014
Froward, The Drawing Schools Gallery, Eton College, Windsor
Some Schools are Cages and Some Schools are Wings – Musue de Arte do Rio, 26 August – 11 Jan 2015
RA Summer Exhibition, Royal Academy of Arts, London
ArtRio with Luciana Caravello Arte Contemporanea, Rio de Janeiro
What Should Remained Secret, Has Come to Light, Fotogalleriet Format, Malmø, Sweden
Dwelling ' Live Performance', Casa França-Brasil and Museu de Arte do Rio (MAR), Rio de Janeiro
START with the LOFT at Lower Parel, Saatchi Gallery
Kunstrai, Marian Cramer Projects, Amsterdam
A Desk of One's Own, Galeri Miz, Istanbul, Turkey
2013
Outpost Open Film, Outpost, Norwich
2Q13: Women Collectors, Women Artists, Lloyds Club, London
Art Barter, 5533@IMC, Istanbul
2012
3rd International Canakkale Biennial, Turkey
Margins, Art Suites Gallery, Istanbul
Wunderkammer, Hoxton Art Gallery, London
Woman in Art, Brook Gallery, Devon
HomeSalon, Marcelle Joseph Projects, Ascot
Re;Rotterdam Art Fair, Marian Cramer Projects, Rotterdam, NL
2011
Orientations, Hoxton Art Gallery, London
Correos, Galleria Progresso, Porto Alegre, Brazil
Photography's New "it" Girls, Marcelle Joseph Projects, London
Draw Togeher, Jeannie Avent Gallery (Associated with Dulwich Picture Gallery), London
Samwaad, FICA Foundation for Indian Contemporary Art, New Delhi, India
2010
New Contemporaries Archive Films, ICA, London
Prints of the City, Free Musuem of Dallas, USA
Home, Okinawa Prefectural Museum and Zspace, Okinawa, Japan
2009
Group Show, Galleria Progresso, London
Indian Summer, Hastings Museum and Gallery, Hastings
IAS, New Delhi, India
Summer Exhibition, Royal Academy of Arts, London
Rencontres Internationales de la Photo, Institut Français de Fès, Morocco
TBA, New Portland Instuite for Contemporary Art, Portland, USA
2008
New Prints from Royal College of Arts, Royal Academy of Arts, London
10: The Chris Orr Years, Royal College of Arts, London
New Comtempoararies, Touring exhibition: Liverpool and London
Beyond Borders, Holster Project Space, London
Real Presence, The House of Legacy, Belgrade
Indian Art Summit 08, New Delhi, India
Real Presence, Remont Gallery, Belgrade
Salon Summer Show, The SaLon Gallery, London
2007
There and Back Again, Hockney Gallery, London
Ensemble (s) ll, Cite Internationale des Arts, Paris
Re-Formation, Christ Church Spitalfields, London
Art Video Screening, Vasteras, Sweden
Over and Over Again, Sadler's Wells, London
Detroit 10th International Film/Video Festival, Museums of New Art, (MONA), Michigan, USA
2006
Peace Camp, The Brick Lane Gallery, London
Secrets, Gulbenkian Gallery, RCA, London
The Vision of the Nunnery, The Nunnery Gallery, London
2005
I.D, Group Show, Crescent Arts, Scarborough
Looking Glass, Group show, Waterloo Gallery, London
Three Sixteen, Group Show, Candid Arts, London
Island Art Film & Video Festival '05, Prenelle Gallery, London
2004
TAKE 04, Group Show, Wimbledon School of Art, London
The Launch of Creative Cultures, Merton Council, London
If u want my body, Wimbledon Library Gallery, London
Identity, Guildford Arts, Guildford, 2003
RESIDENCY/AWARDS
Embassy of Brazil (London) Visual Arts Award, Finalist, 2015
Le Fonds Belval Residency and Award – Short Listed
Eton College Residency, Eton College, Windsor (Jan – March 2015)
Instituto Inclusartiz Residency, Rio da Janeiro, 2013-2014
Space 118 Residency, Mumbai, 2012
The Arts Foundation, Nominated for Photography Fellowship, UK
Film and Video Umbrella, Nominated for Tomorrow Never Knows Moving image award, 2011
Leighton House Museum, April – September 2010
The Loft at the Lower Parel, Mumbai and Arts Reverie, Ahmedabad, India, July 2009
The Foundacion Valparaiso, Mojacar, Spain, Oct-Nov 2008
Matthew Wrightson Award, 2008
The Cite Internationale Des Arts, Paris, Apr – June 2007
20/21 Century Art prize, Short-listed
PUBLICATIONS
II Mattino, Napoli Cultura&Societa (Review), Italy, 17th May 2015
Art & Religion in the 21st Century by Dr Aaron Rosen (Thames and Hudson 2015)
O Globe (Article), Brazil, 7th April 2014 – view
Aksam (Article), Turkey, January
O Globe (Article), Brazil, July 2013
Yurt (Interview), Turkey, March
The Times of India (Review), India, 18th January
The Sunday Express, (Review), Mumbai, December, 2012
Daily News & Analytical – DNA, (Review), Mumbai, December
Mid-Day, (Review), Mumbai, December
Time Out Istanbul, (Review), Turkey, May
Het Parool Newspaper (Article), The Netherlands, 29th February 2012
HaberTurk, (An Interview), Turkey, September 2011
Basphorus Art Newspaper (An Interview in September issue), Turkey, September 2010
HaberTurk (Review), September, Turkey
15er, National, 2008
New Comtemporaries 08, National
COLLECTION
Goverment Collection, UK
Museu de Arte do Rio (MAR), Brazil
Huis Marseille, Photography Collection, NL
Royal Academy of Arts, Photography Collection, UK
The House of St Barnabas, UK
Achmea Kunstcollectie, NL
The LUMC, Leiden, NL
Great Fosters, Egham, UK
Victoria & Albert Museum, Print Collection, London, UK
The Portland Institute for Contemporary Art (PICA) Library, Portland, USA
Video Library, Crisp Gallery, LA, USA
Royal College of Art, London, UK
PROFESSIONAL ENGAGEMENTS
Royal Academy Schools, Present – Oct 2011 Digital Print Tutor
Royal College of Art (Printmaking), Visiting Lecturer, 2015
Sheffield Hallam University, Visiting Lecturer, 2013
Oreet Ashery and Güler Ates in Conversation: Identity Politics in Contemporary Art, 2011
Leighton House Museum, London, Artist Talk, 2010
Bhavan Centre (Indian Art Institue for Art and Culture), London, Artist Talk, 2010
University of Hertfordshire, UK Nov 2008, Visiting Lecturer, 2008