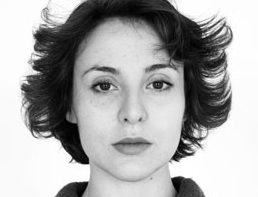 Residentes
ANNA FRANCESCHINI
Anna Franceschini (Pavia, 1979, lives and works in Milan) received a MA in Media Studies and a post-graduate grant in History and Critics of Italian Cinema at iulm University, Milan.
Her work has been presented and awarded in several film festivals among which the IFFR/Rotterdam Film Festival; 60th Locarno Film Festival; TFF/Torino Film Festival and MFF/Milano Film Festival.
A selection of her solo exhibitions includes: Kunsteverein Duesseldorf (2015); Spike Island, Bristol (2014); Elisa Platteau, Brussels (2014); MACRO, Rome (2014); Vistamare/Benedetta Spalletti, Pescara (2014); Institut Culturel Italien, Paris (2013); Peep Hole, Milan (2012); Bielefelder Kunstverein, Bielefeld (2012); Objectif – Exhibition, Antwerp (2012); Fondazione Bevilacqua la Masa, Venice (2012); Kiosk Gallery, Ghent (2011). And her work has been featured in group exhibitions in institutions and galleries such as pac , Milan, (2014); The Green Parrot, Barcelona (2014); marco, Vigo (2014); MAXXI, Rome (2014); Nomas Foundation, Rome (2014); Remap4, Athens (2013); Fondazione Sandretto Re Rebaudengo, Turin (2013); MACRO, Rome (2013); Futura, Prague (2013); Vistamare/Benedetta Spalletti, Pescara (2012) and Villa Medici, Rome (2012). In 2011 her work was awarded with a mention of Honor at Ariane de Rothschild Prize, Milan.
She has been a resident artist at the Rijksakademie van beeldende
kunsten, Amsterdam (2009–2011); iscp program in New York (2013) and
at the macro , Rome (2014). Her work is part of institutional and private collections such as:
Centre Georges Pompidou, Paris; macro , Rome; Les Abattoires/Frac Midi Pyrénée, Toulouse; The Dommering Collection, Amsterdam and Nicoletta Fiorucci Collection, London.
Additional Information
PANTERA PROFUMATA
by Anna Franceschini
2 minidv cameras, 2 projectors, computer, speakers, objects, 2015 15' (aprox)
Curator : João Laia
Pantera Profumata is a vaudeville for objects, an act of live cinema. The encounters, findings, and discoveries during the month long residency in Rio were crystallised in a plethora of object-images that are presented in a diffuse sequence of events, driven by music and sound impressions.
The work of Anna Franceschini dives into the history and prehistory of cinema to explore the primitive friction between the scientific and the magical origin of the media. In her analysis, the idea of re-animation appears as a central tool: her films lend life to objects and situations, contextualising them in diffuse narratives halfway between dream and contemplation. Her oneiric compositions use static elements or repetitive motion that are reformulated as small and fragile rituals, parascientific experiences recovering a lost magic in our daily encounter with the visual and at the same time, quote both the mechanical structure of the first filmic devices as well as the first interactions with the moving image.