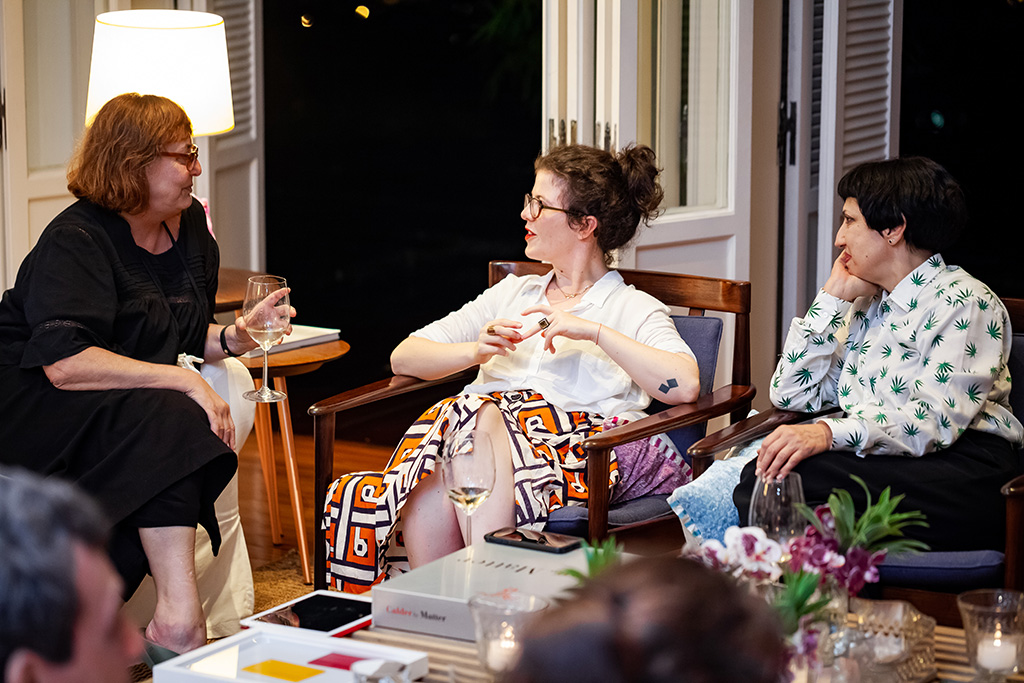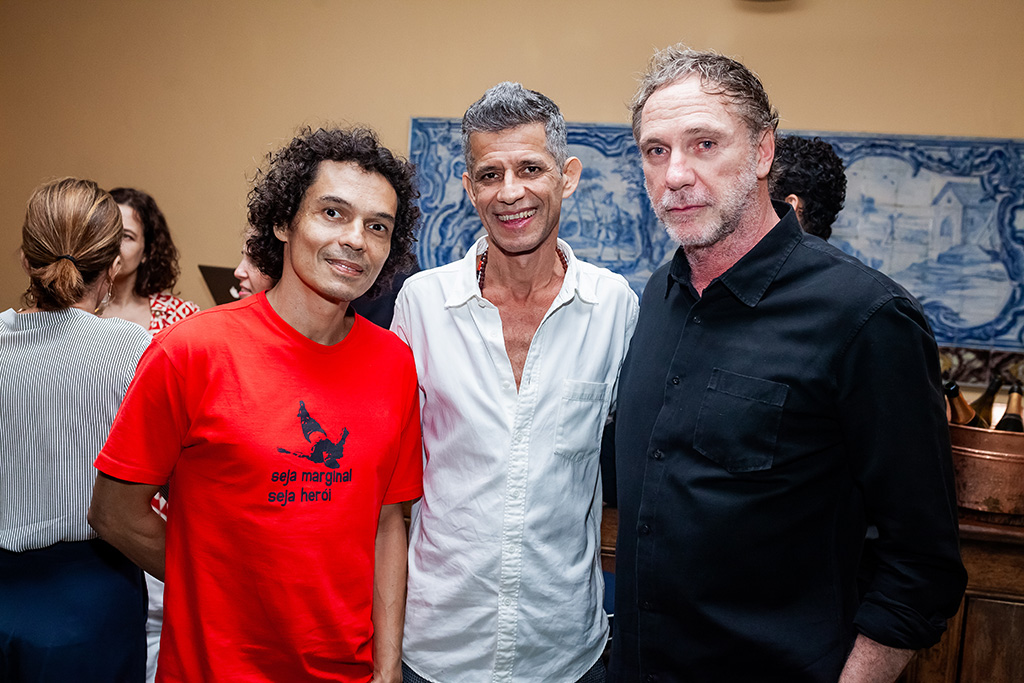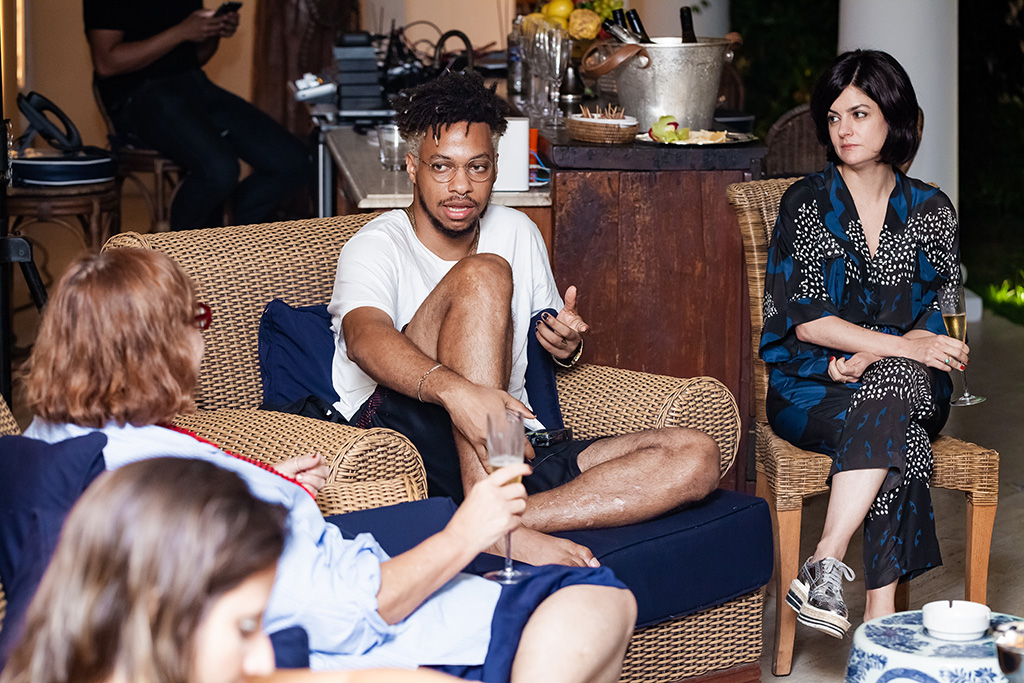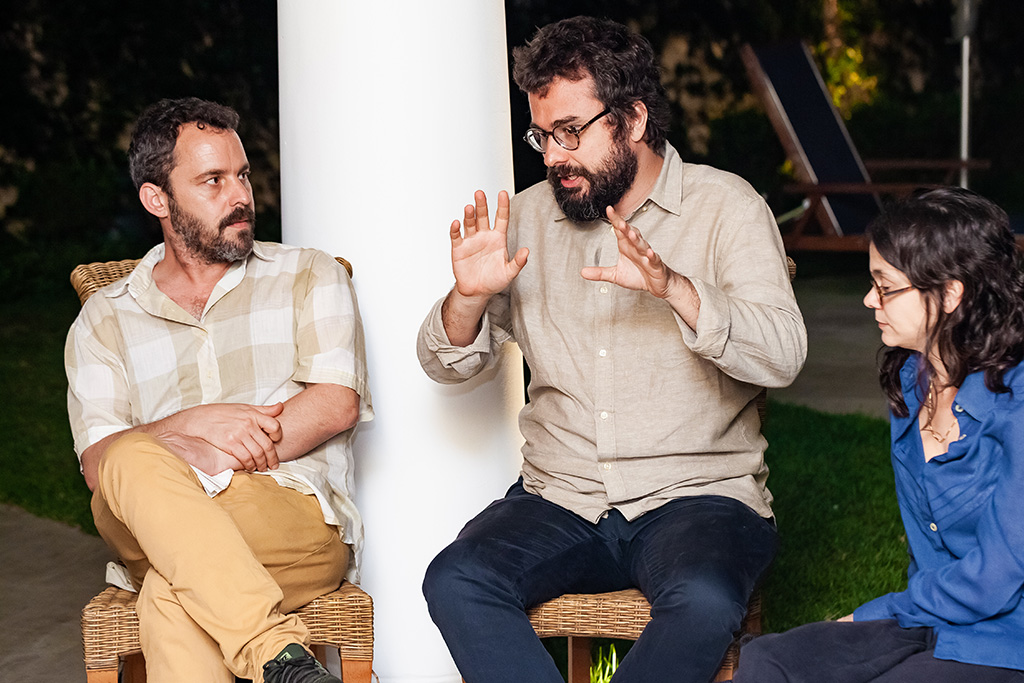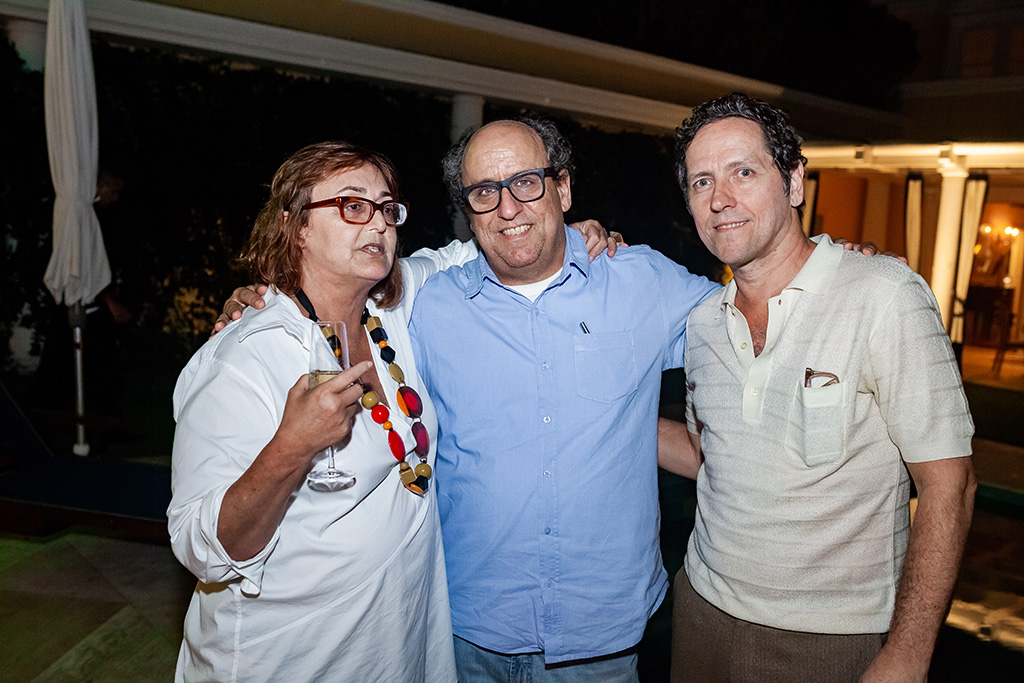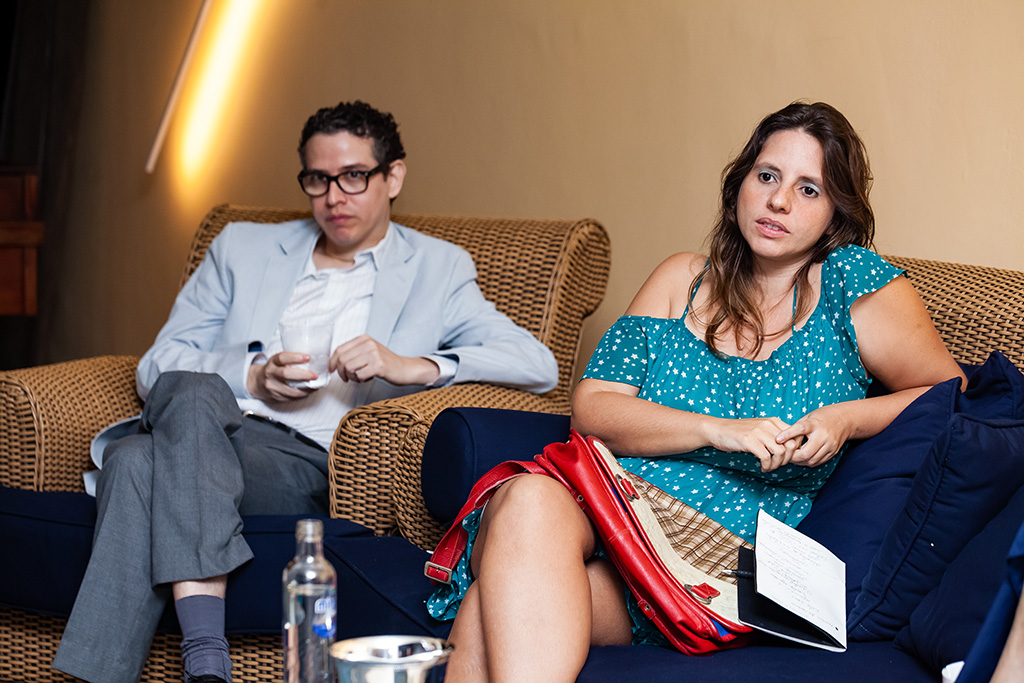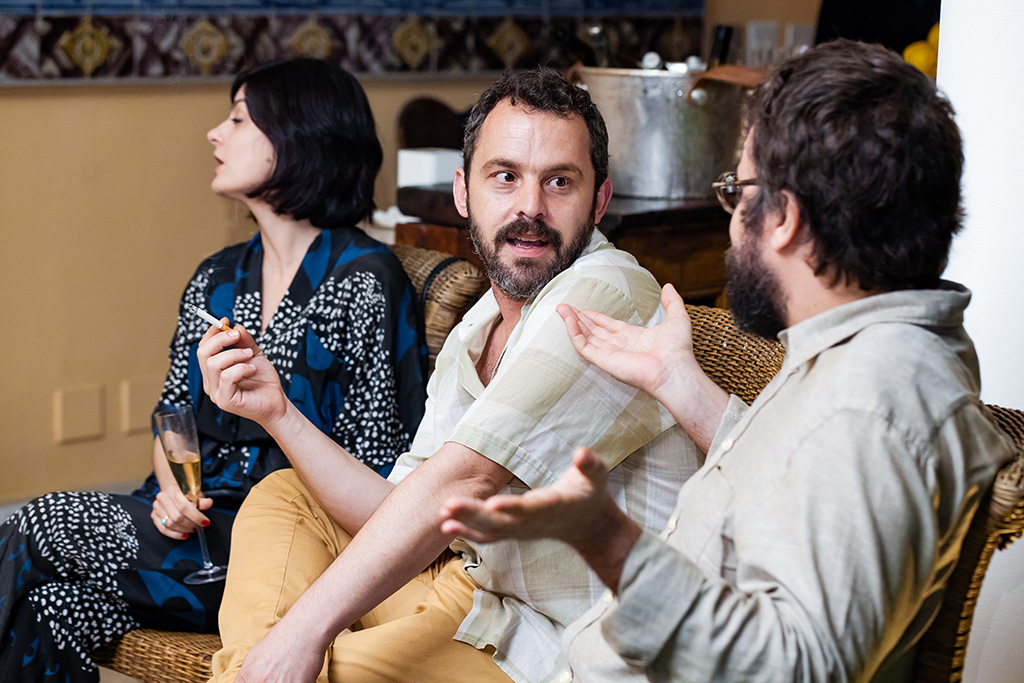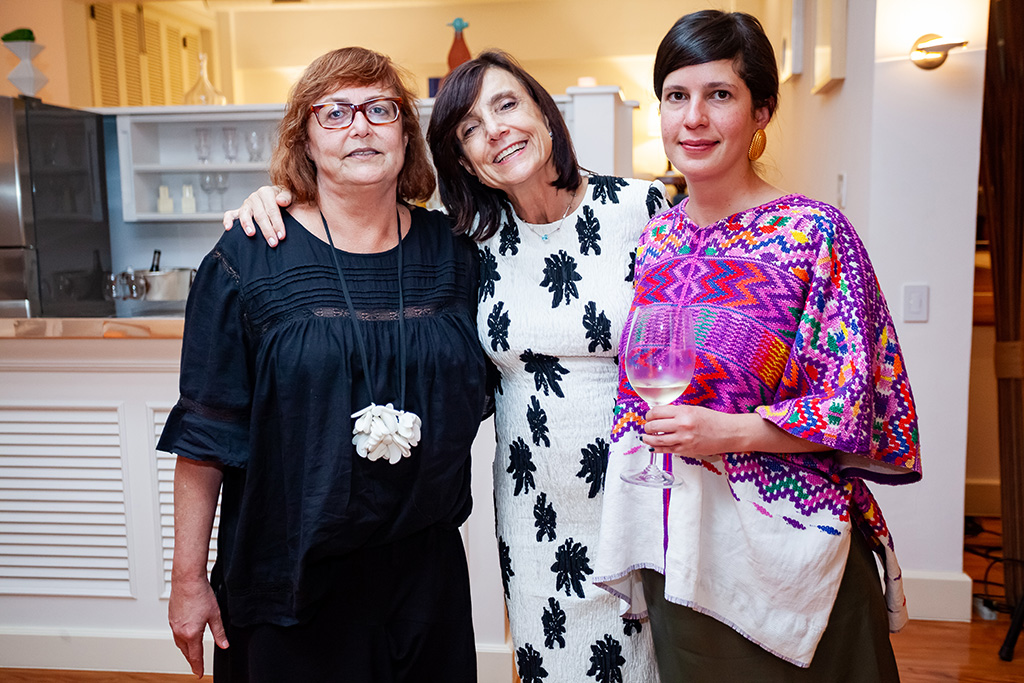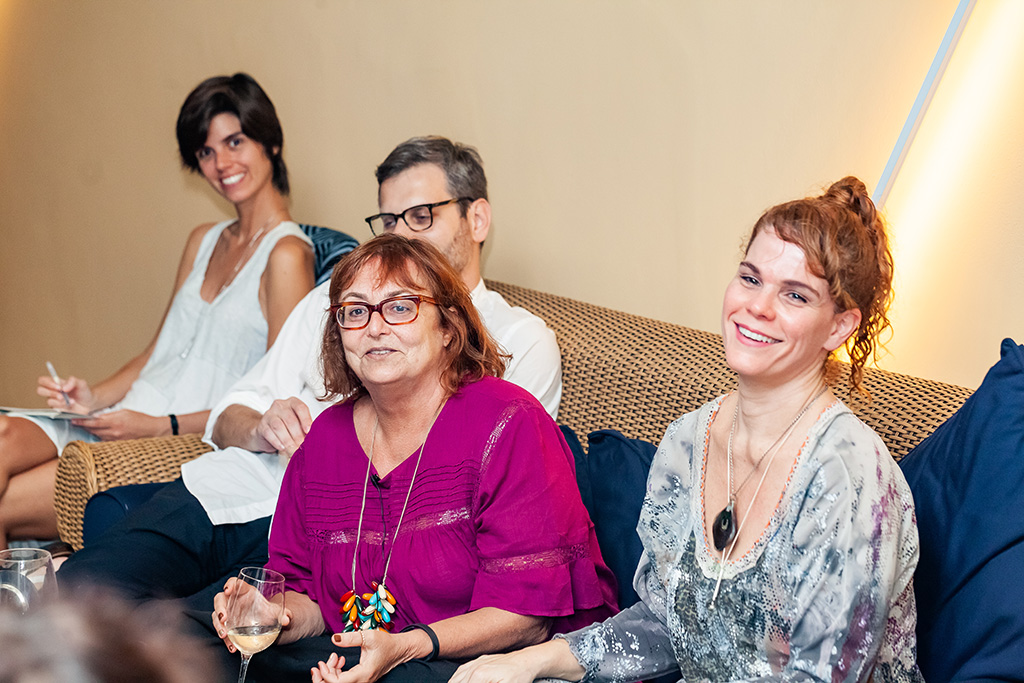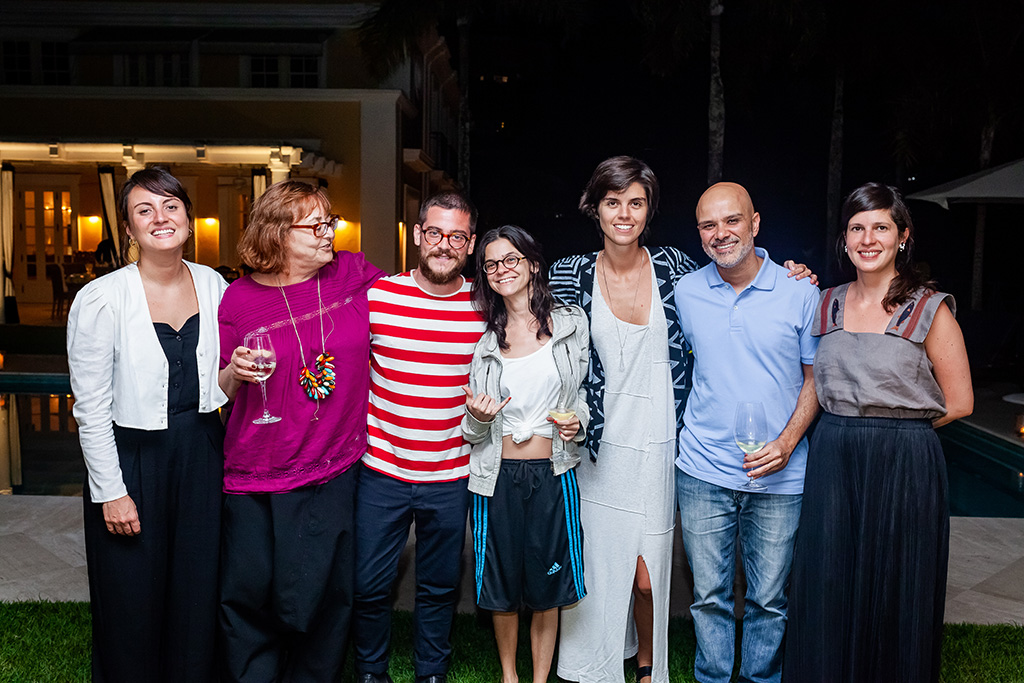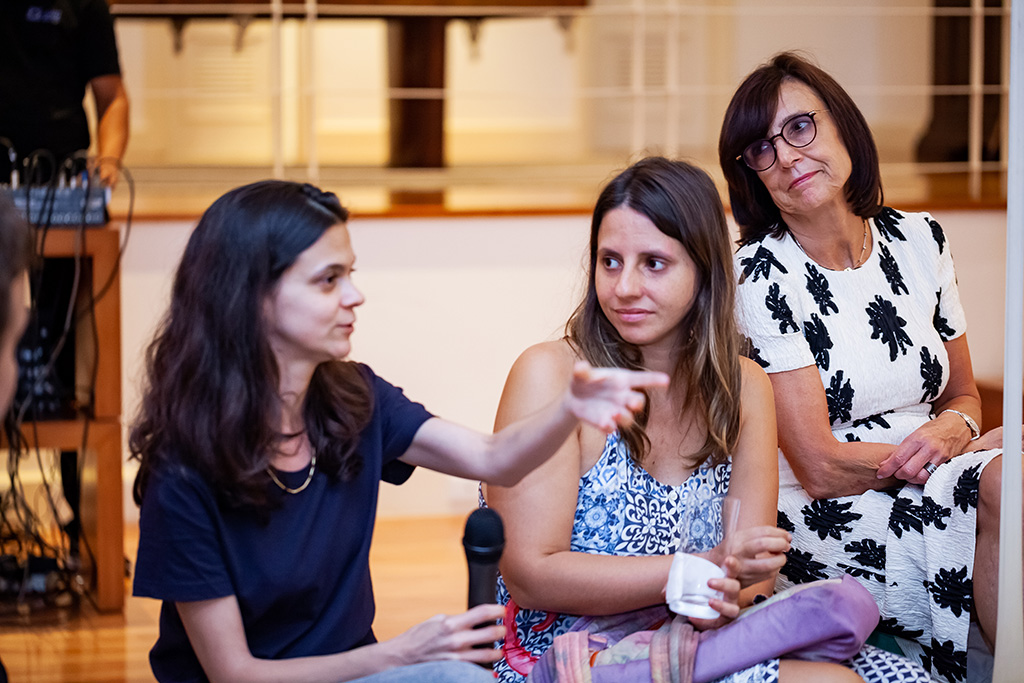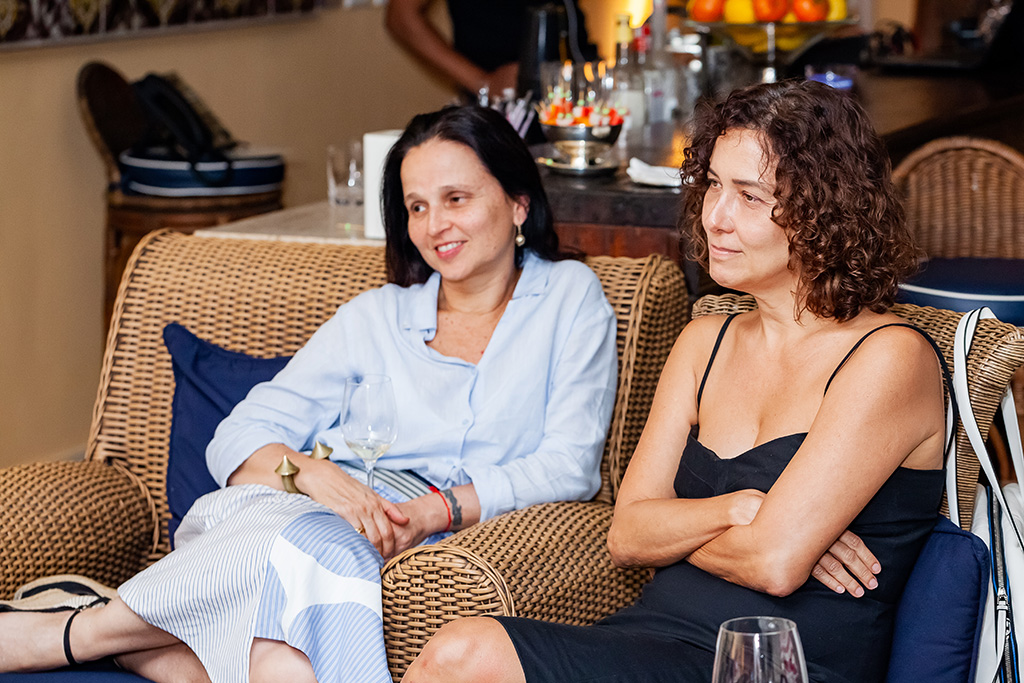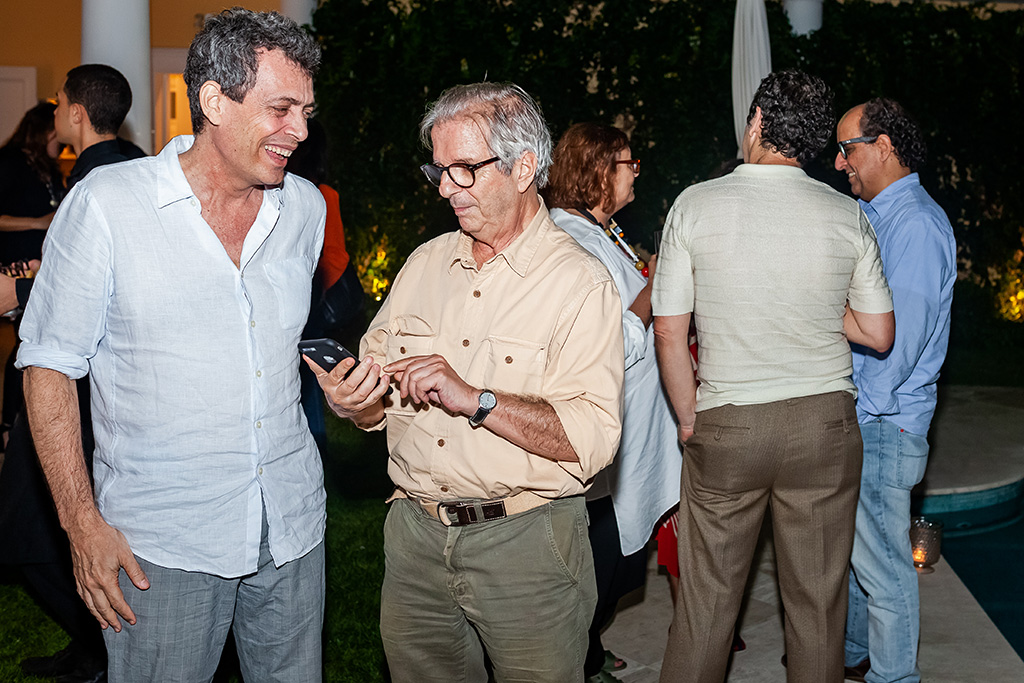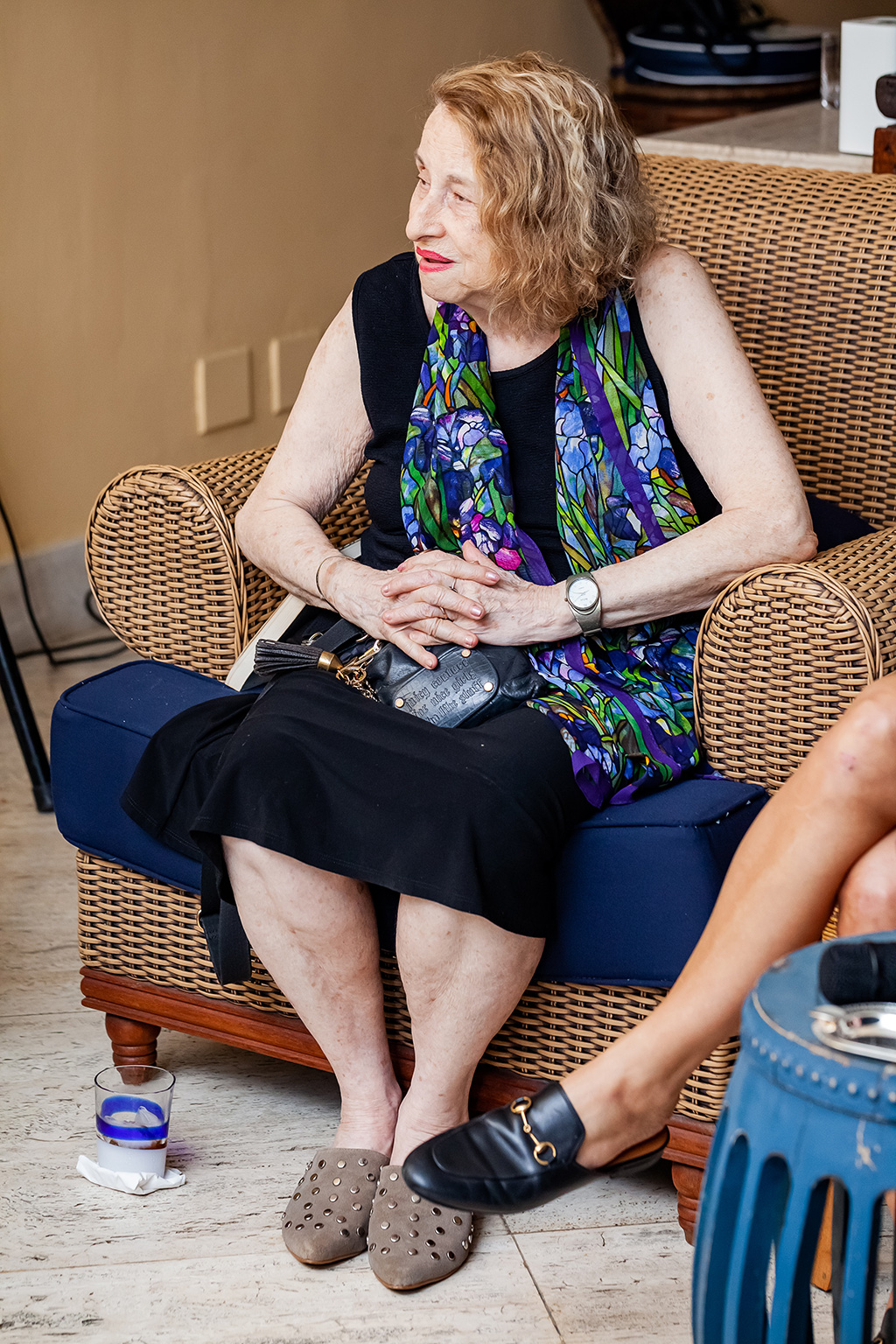 Residentes
VALESKA SOARES
BIOGRAFIA
Nascida em Belo Horizonte, Brazil, Valeska Soares vive e trabalho no Brooklyn, NY, desde 1992. Em 2017, foi o tema de uma grande pesquisa itinerante em museus, com curadoria de Julie Joyce e Vanessa Davidson, inaugurando no Santa Barbara Museum of Art, viajando depois para o Phoenix Art Museum como parte da iniciativa Horário Padrão do Pacífico da Getty Foundation. Apresentou também duas novas instalações para a série Matrix no Wadsworth Atheneum, Hartford, CT.
Atualmente, tem uma pesquisa em museum chamada "Entrementes", com curadoria de Julia Rebouças, na Pinacoteca Estação, em São Paulo.
Exposições coletivas mais recentes includem: Brasil, Beleza?, Museum Beelden aan Zee/Lange Voorhout, Haia, Holanda; Time Has No Shadows, The Jewish Museum, Nova York, NY; Gestos Iconoclastas, Imagenes Heterodoxas, La Caixa Forum, Barcelona, Espanha; Belle Haleine: The Scent of Art at Museum Tinguely, Basel; Unbound: Contemporary Art After Frida Kahlo no Museum, Contemporary Art, Chicago e Permission to be Global at the Museum of Fine Arts, Boston.
Soares tem seus trabalhos incluídos em importantes coleções de museus internacionais, como: Hirshhorn Museum Washington, D.C., uma istalação permanente no INHOTIM, Minas Gerais, Brasil; The Guggenheim Museum, NY; The Carnegie Museum, Pittsburgo; Tate Modern, Londres; Dallas Museum of Art, Dallas, Texas; Daros Foundation, Zurique, Suíça; Los Angeles County Museum of Art, Los Angeles, CA; Museo de Arte Contemporánea – MARCO, Monterrey, México e Museu d´Art Contemporani de Barcelona – MACBA, Barcelona, Espanha.
A artista participou de diversas pesqusas e exposições de arte internacional, incluindo a Bienal de Sharjah, Bienal de São Paulo e Beinal de Veneza.
Ė representada pela galeria Fortes D'Aloia Gabriel, São Paulo, e Alexander Gray Associates, em Nova York.
www.valeskasoares.net
PROJETO
Residência Valeska Soares e Maria do Carmo M. P. de Pontes
20 de setembro – 11 de outubro 2018
Durante um período de três semanas, a artista Valeska Soares, em parceria com a curadora Maria do Carmo M. P. de Pontes, irá organizar uma série de salões semanais em ocasião de sua residência conjunta na Inclusartiz. A ideia é convidar artistas, curadores e pensadores de diversas áreas de atuação, com vozes dissonantes mas atitudes construtivas, para juntos elaborarem pensamentos sobre o estado da arte na atual conjuntura. A residência ocorre concomitantemente à exposição individual da artista na Estação Pinacoteca, em São Paulo, que apresenta obras desde a década de 1980 até os dias de hoje. Trata-se, de certa forma, da reinserção de Valeska no circuito de arte brasileiro, uma vez que ela reside em Nova York há mais de trinta anos. De forma que os salões visam também aprofundar o intercâmbio entre a artista e o país.
Additional Information
Exposições
Atual
04 agosto a 22 outubro 2018
Valeska Soares: Meanwhile, Pina_Estação, São Paulo, Brazil
Exposições indiviuais
2018 Any Moment Now, Phoenix Museum of Art, Phoenix, AZ
2017 Neither Here Nor There, Alexander Gray Associates, New York, NY
Any Moment Now, Santa Barbara Museum of Art, Santa Barbara, CA, traveling
2016 Valeska Soares/Matrix 176/Unfold, Wadsworth Atheneum, Hartford, CT
Lugar Comum, Galeria Fortes Vilaca, Sao Pãulo, Brazil
2015 Time Has No Shadows, The Jewish Museum, New York, NY
2014 Any Moment Now, Eleven Rivington, New York, NY
Double Margin, Max Wigram Gallery, London, England
2013 Notations, Max Wigram Gallery, London, England
Push Pull, produced by Kreemart for the Cisneros Fontanals Art Foundation, Miami, FL
2012 Parágrafos, Galeria Fortes Vilaça, São Paulo, Brazil
Bindings, Eleven Rivington Gallery, New York, NY
2010 Passa Tempo, Greenberg Van Doren Gallery, New York, NY
Vaga Lume, Eleven Rivington Gallery, New York, NY
2009 Passa Tempo, Galpao Fortes Vilaça, São Paulo, Brazil
2008 After, Eleven Rivington Gallery, New York, NY
2007 After, Galeria Fortes Vilaça, São Paulo, Brazil
2006 Walk on by, Art Gallery of Hamilton, Ontario, Canada
2005 nar-cis-sus, Galeria Fortes Vilaça, São Paulo, Brazil
nar-cis-sus, Vitamin Arte Contemporanea, Turin, Italy
Notations, Fusebox, Washington, DC
2004 The Fine Line (between Something and Nothing), Leslie Tonkonow Artworks and Projects, New York, NY
2003 Follies, The Bronx Museum of the Arts, Bronx, NY
Caprichos, Museo de Arte Contemporáneo de Monterrey, (MARCO), Monterrey, Mexico
Puro Teatro, Museo Rufino Tamayo, Mexico City, Mexico
Centro Cultural Dragão do Mar, Fortaleza, Brazil
2002 Mirrorings, Dwight Hackett Projects, Santa Fe, NM
Fundação Joaquim Nabuco, Recife, Brazil
Museu de Arte da Pampulha (MAP), Belo Horizonte, Brazil
Detour, Galeria Fortes Vilaça, São Paulo, Brazil
1999 Pan American Series, Museum of Contemporary Art San Diego, La Jolla, CA
Projeto Finep, Paço Imperial, Rio de Janeiro, Brazil
Galerie Claudine Papillon, Paris, France
1998 Vanishing Point, Galeria Camargo Vilaça, São Paulo, Brazil
Untitled (From Vanishing Point), new Installation, Christopher Grimes Gallery, Santa Monica, CA
Vanity, Portland Institute of Contemporary Art (PICA), Portland, OR histórias, a project for The Public Art Fund, New York, NY
1997 Personagens, Galería Luis Adelantado, Valencia, Spain
1996 Strangelove, Galeria Camargo Vilaça, São Paulo, Brazil
Seen/Unseen, Laumeier Sculpture Park and Museum, St. Louis, MO
Christopher Grimes Gallery, Santa Monica, CA
1995 Discontinuous Teasers, The New Museum of Contemporary Art, New York, NY
1994 Fall, Galeria Camargo Vilaça, São Paulo, Brazil
Fall, Information Gallery, New York, NY
1992 Centro Cultural São Paulo, Brazil
1991 Espaço Cultural Sérgio Porto, Rio de Janeiro, Brazil
Exposições coletivas
2018 Gaze, Greenberg Van Doren Gallery, New York, NY
2017 Art of the Senses, Albright-Knox Art Gallery, Buffalo, NY
Past/Future/Present: Contemporary Brazilian Art from the MoMA, São Paulo, Phoenix Art Museum, Phoenix, AZ
Ainda Esculturas (Still Sculptures), Auroras, São Paulo, Brazil
99 Cents or Less, MOCA Detroit, Detroit, MI
Half-Life of Love, MassMOCA, North Adams, MA
2016 Infinite Garden: From Giverny to Amazonia, Centre Pompidou-Metz, Metz, France
Club de Gravura: 30 Anos, Museu de Arte Moderna de Sao Paulo, Sao Paulo, June 20-August 21
Tudo Joia, Bermamin & Gomide, São Paulo, Brazil
Brasil, Beleza?!, Beelden aan Zee, Museum of Modern Sculpture, the Netherlands
Tertulia, Galeria Fortes Vilaca, São Paulo, Brazil
2015 Gestos Iconoclastas, Imagenes Heterodoxas, Caixa Forum, Barcelona, Spain
Rotation 2: Contemporary Art from the Peter Norton Gift, Kemper Art Museum, Washington University, St. Louis, MO
By the Book, Sean Kelly Gallery, New York, NY
PICA: Celebrating 20 Years, Reflecting on the First Decade, Elizabeth Leach Gallery, Portland, OR
Blueprint, Storefront for Art and Architecture, New York, NY
Belle Haleine, The Scent of Art, Museum Tinguely, Basel, Switzerland
Afetividades Eletivas, Centro Cultural Minas Tênis Clube, Belo Horizonte, Brazil
 Todas as exposições: http://valeskasoares.net/exhibitions/
 Imprensa
2018 'The Day After', Vogue Brasil, (September) pp.242-249
          'Valeska Soares' by Evan Moffitt, Frieze 197 (September) pp.122-127 (illus)
           'Valeska Soares ganaha retorspectiva na Pinacoteca de São Paulo Casa Vogue/Gemada, (07/08/2018)' by Beta Germano, Casa Vogue/Gemada, (07/08/2018) (illus)
           'Valeska Soares' by Julia Reboucas, Dasartes 74
          'Valeska Soares: Any Moment Now. Santa Barbara Museum of Art' by Caputo, Amalia, ArtNexus No. 107
Imprensa arquivos completos: http://valeskasoares.net/press/
Books & Catalogues
2017
'Valeska Soares: Any Moment Now' by Joyce, Julie, Julia Reboucas, Vanessa Davidson and Jens Hoffman, Shiffman and Kohnke, Santa Monica, 2017
2016
'Valeska Soares' by Hoffman, Jens and Kelly Taxter, Mousse Publishing: Milan
2013
'Creativity and Sin' by Marysol Nieves
'Contemporary Art Brazil' by Hossein Amirsadeghi and Catherine Petitgas, Transglobe Publishing Limited, London
'Art & Place: Site-Sprecific Art of the Americas' by Lucy L. Bowditch, Adrian Locke, and Lawrence L. Loendorf, Phaidon, London
All books & catalogues: http://valeskasoares.net/books-catalogs/
Prêmios
2014 Pacific Standard Time: LA/ LA, The Getty Foundation
2005 Anonymous Was A Woman
2003 Ida Ely Rubin Artist in Residence Program, Massachusetts Institute of Technology, Cambridge, Massachusetts
1996 John Simon Guggenheim Memorial Fellowship
1994 Bolsa de Estudios no Exterior, CNPq- Ministério de Ciência e Technologia, Brasil. [CNPq Fellowship for Post-Graduate Studies Abroad, Ministry of Science and Technology, Brasil]
1991 Bolsa de Estudios no Exterior, CAPES- Ministério da Edacação, Brasil
1990 Prémio FIAT para Artes Visuais [FIAT Award for the Visual Arts]
Prémio de Aquisição [Acquisition Award], Funarte, Rio de Janeiro, Brazil
1989 Prémio de Aquisição [Acquisition Award], Funarte, Rio de Janeiro, Brazil
Coleções Públicas
Albright-Knox Art Gallery, Buffalo, NY, USA
Bronx Museum of the Arts, Bronx, NY, USA
Burger Collection, Zürich, Switzerland
Carnegie Museum of Art, Pittsburgh, PA, USA
Centro De Arte Contemporánea – CAC, Malaga, Spain
Centro Galego de Arte Contemporánea – CGAC, Santiago de Compostela, Spain
Cisneros Fontanals Art Foundation, Miami, FL, USA
Corcoran Gallery of Art, Washington, DC, USA
Dallas Museum of Art, Dallas, TX, USA
Daros Foundation, Zürich, Switzerland
Fundação Cultural ITAU, São Paulo, SP, Brazil
Fundación "la Caixa", Barcelona, Spain
Hirshhorn Museum and Sculpture Garden, Washington DC, USA
Inhotim – Centro de Arte Contemporânea, Brumadinho, MG, Brazil
JP Morgan Chase, New York, NY
Katzen American University Museum, Washington, DC, USA
Laumaeir Sculpture Park, Saint Louis, MI, USA
Los Angeles County Museum of Art, Los Angeles, CA, USA
Museo de Arte Contemporánea – MARCO, Monterrey, Mexico
Museu Arte de Pampulha – MAP, Belo Horizonte, Brazil
Museu de Arte Contemporânea – MAC, São Paulo, SP, Brazil
Museu de Arte Moderna – MAM, Rio de Janeiro, RJ, Brazil
Museu de Arte Moderna de Sao Paulo, Sao Paulo, Brazil
Museu Extremeño e Iberoamericano de Arte Contemporáneo – MEIAC, Badojoz, Spain
Museum of Contemporary Art – MOCA, San Diego, CA, USA
New Mexico Museum of Art, Santa Fe, NM
Pinacoteca Museum, Sao Paulo, Brazil
Santa Barbara Museum of Art, Santa Barbara, CA
Solomon Guggenheim Museum, New York, NY, USA
Tate Modern, London, England, UK
The Mildred Lane Kemper Art Museum, Washington University, St. Louis, MO
The MINT Museum of Art, Charlotte, NC, USA
The National Museum of Women in the Arts, Washington DC, USA
The Phillips Collection, Washington, DC, USA