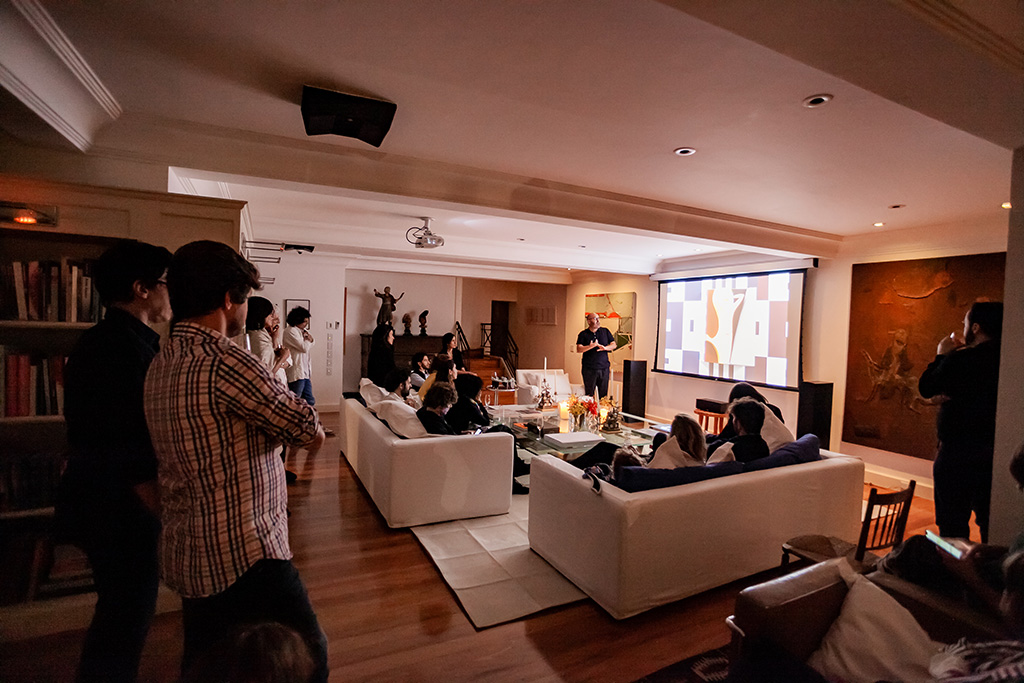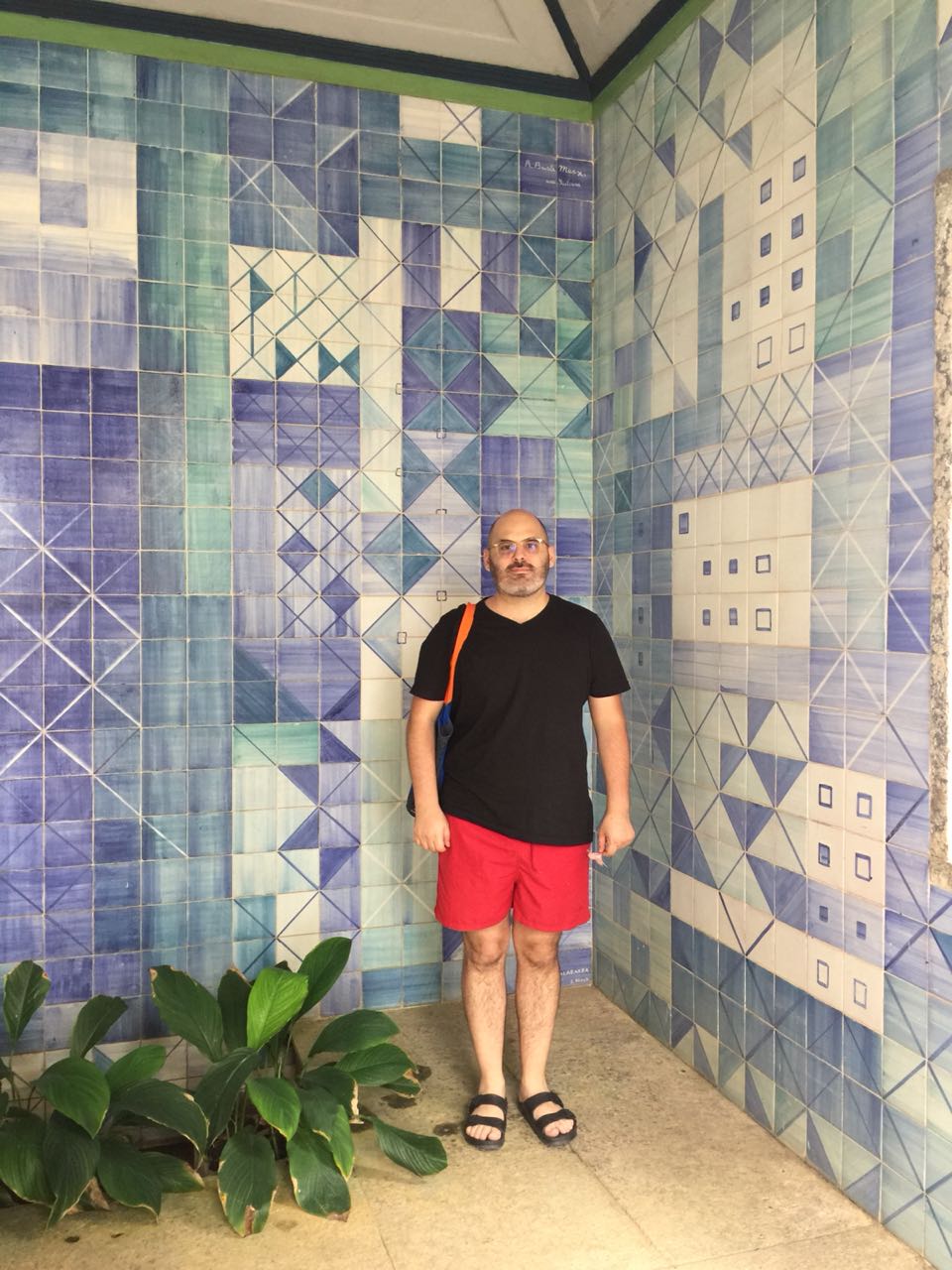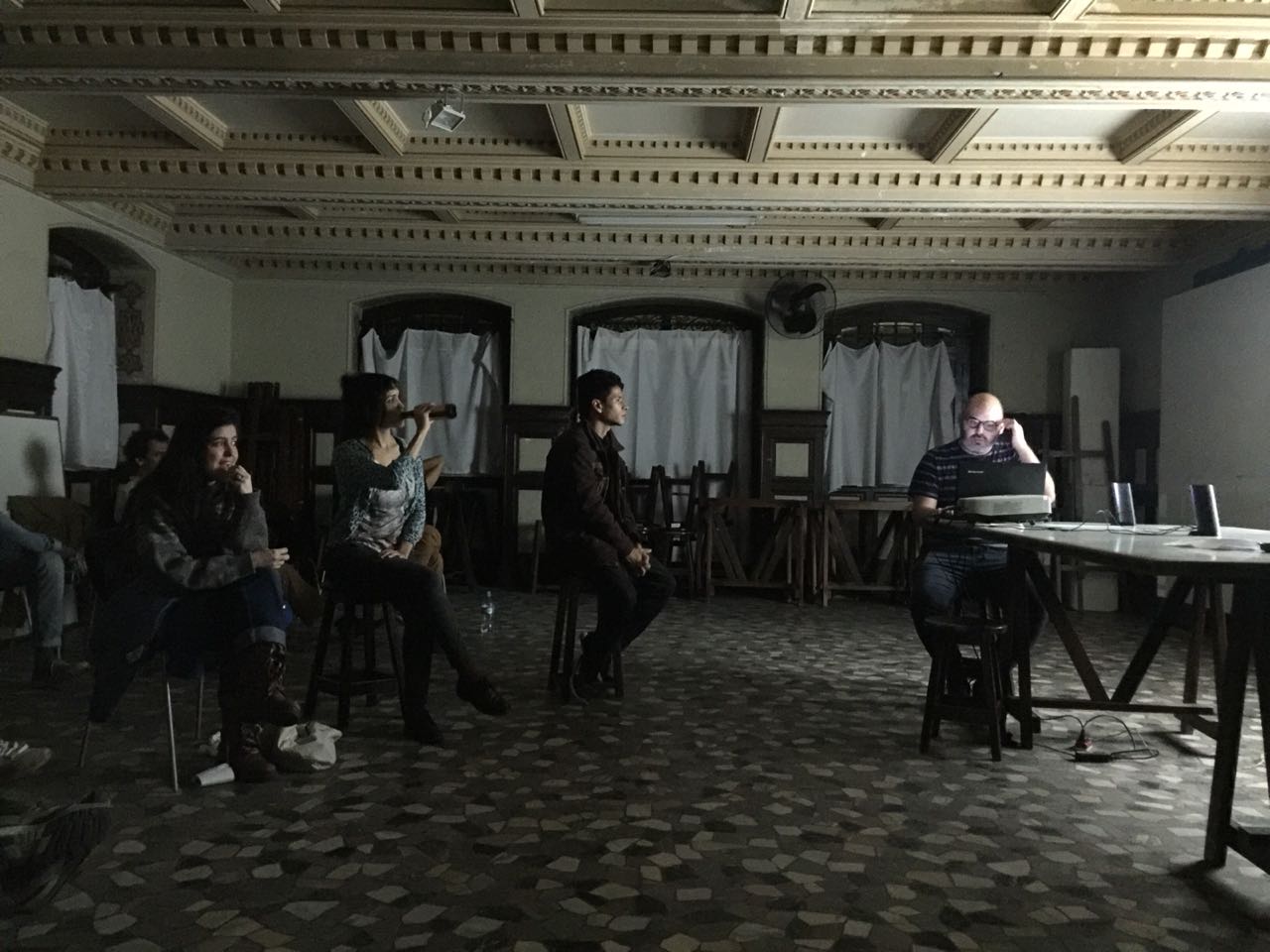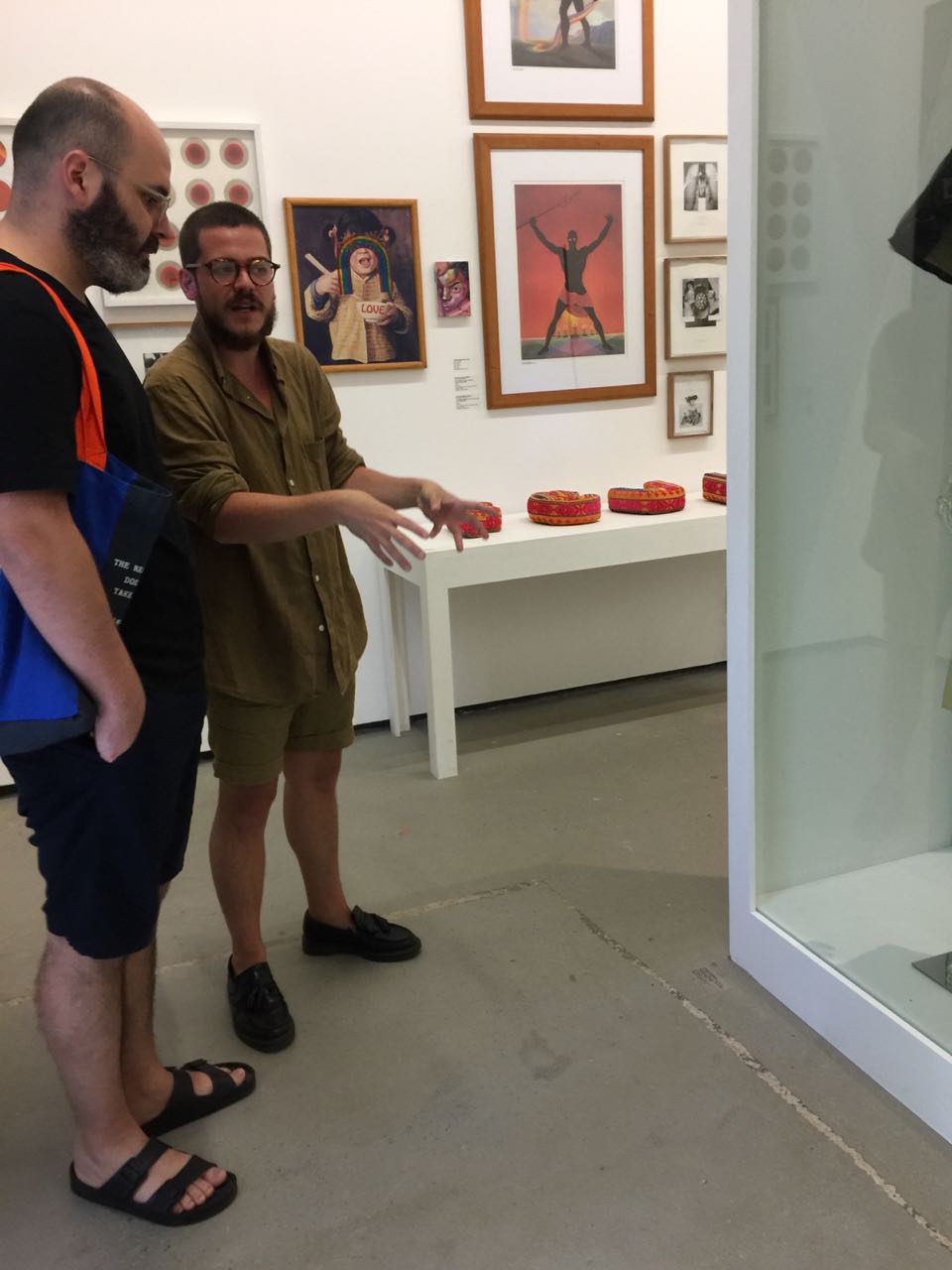 Residentes
RODRIGO HERNÁNDEZ
Rodrigo Hernández (Cidade do México, México, 1983) vive e trabalha entre Lisboa e a Cidade do México. Estudou na Akademie der bildenden Künste em Karlsruhe com Silvia Bächli em 2010-2012, e em Jan Van Eyck Academie em Maastricht em 2013-2014.
Nos últimos anos, foi concedida a ele uma residência no Laurenz-Haus Stiftung na Basileia em 2015 e na Cité International des Arts em Paris em 2016.
Suas exposições solo recentes incluem: Shadow of a Tank, Art Basel Statements, 2018; Stelo, P420, Bologna, 2017; J'aime Eva, ChertLüdde, Berlim, 2017; Plasma, Madragoa, Lisboa, 2017; The Shakiest of Things, Kim?, Riga, 2017; I am nothing, Heidelberger Kunstverein, Heidelberg, 2016; Every forest madly in love with the moon has a highway crossing it from one side to the other, Kurimanzutto, Cidade do México, 2016; El pequeño centro, Museo Universitario del Chopo, Cidade do México, 2015; What is the moon?, Bonnefantenmuseum, Maastricht, 2015; Go, gentle scorpio, Parallel Oaxaca, Oaxaca, 2014; A Sense of Possibility, Weingrüll, Karlsruhe, 2014.
Suas exposições em grupo recentes incluem: The Lulennial II: A Low-Hanging Fruit, Lulu, Cidade do México, 2018; Approx., Madragoa no CONDO London recebido por Sadie Coles HQ, The Shop, 2018; Resonanzen, ZKM Museum für Neue Kunst, Karlsruhe, 2017; Panoramas do Sul, parte do 20° Festival de Arte Contemporânea SESC_VIDEO BRASIL, São Paulo, 2017; Pilger Mills, Kunstverein Nürnberg, Nuremberg, 2017; Illusion and Revelation, da coleção do Bonnefantenmuseum, Bonnefantenmuseum, Maastricht, 2016-2017; Pelamide, Gladstone Gallery, Bruxelas; Neither, MendesWoodDM, Bruxelas, 2017; An ear, severed, listens, ChertLüdde, Berlim; 12th Bienal Femsa Monterrey, Monterrey, 2016-2017; Hyperconected – 5th Moscow Bienal for Young Art, Moscow Museum of Modern Art, Moscou, 2016;
Um die Ecke denken, Museum Haus Konstruktiv, Zurique, 2016; Marriage, Queer Thoughts, Nova York, 2016; Jungs, hier kommt der Masterplan, Kunsthalle Basel, Basileia, 2016. As futuras exposições solo e em grupo incluem: PIVÔ, São Paulo; Kunsthalle Winterthur; Gamec, Bergamo and Midway Contemporary, Minneapolis.
http://www.rodrigo-hernandez.net/
Additional Information
ESTUDOS
2013-2014 Jan Van Eyck Academie, Maastricht, NL
2010-2012 Akademie der bildenden Künste Karlsruhe, DE , Prof. Silvia Bächli
2006-2010 Escuela Nacional de Pintura, Escultura y Grabado "La Esmeralda" Cidade do México
Concessões e Prêmios
2017 Programa BBVA Bancomer – Museo Carrillo Gil, MX
Jóvenes Creadores, FONCA, MX
2016 Cité Internationale des Arts, Paris
New York Studio Grant, IAAB Christoph Merian Stiftung, Basileia, CH
2014 Laurenz-Haus Stiftung, Basileia, CH
Kunststiftung Baden-Württemberg, DE
2013 Jóvenes Creadores, FONCA, MX
Jan Van Eyck Academie Stipendium, Ministerie van Onderwijs, Cultuur en Wetenschappen, NL
Graduiertenstipendium Landesstiftung Baden-Württemberg, D
2012 Kulturfonds der Landeshauptstadt Salzburg, AT
2012 DAAD-Preis zur Jahresausstellung, AdbK Karlsruhe, D
2010 Beca de Estudios en el Extranjero, FONCA, MX
2011 Beca de Titulación, INBA, MX
2009 Internship Studies Grant, Landesstiftung Baden-Wurttemberg, Karlsruhe, D
Exposições solo
2019 Kunsthalle Winterthur, CH
Sala de Arte Publico Siqueiros, Cidade do México, MX
Midway Contemporary, Minneapolis, EUA
2018 Pivô, São Paulo, BR
Gourd and Fish, SALTS, Basileia, CH
ArtBasel Statements, com Galeria Madragoa, Basileia, CH
2017 Stelo (com Rita Ponce de León), P420, Bologna, IT
J'aime Eva, ChertLüdde Gallery, Berlim
Plasma, Galeria Madragoa, Lisboa
The Shakiest of Things, Kim?, Riga
2016 I am nothing, Heidelberger Kunstverein, D
Todo bosque locamente enamorado de la luna tiene una autopista que lo cruza de un lado a otro, Kurimanzutto, Cidade do México, cur. Chris Sharp
T66, Freiburg, D, cur. Leon Hoesl
2015 El pequeño centro, Museo del Chopo, Cidade do México, MX
2014 What is the moon?, Bonnefantenmuseum, Maastricht, NL
Go, Gentle Scorpio, Parallel Oaxaca, Oaxaca, MX
Dutch Flat Things, Jan Van Eyck Academie, Maastricht, NL
2013 A Sense of Possibility , Weingrüll, Karlsruhe, D. Cur . Roos Gortzak
2012 Pedro, o.T. Raum für aktuelle Kunst, Lucerna, CH
2011 Interaction of Nothing, Zip, Basileia, CH
Penetration, IAAB Atelier , Berlim, D
Automatic Sculpture, Poly Galerie, Karlsruhe, D
2010 New Stones, Mucharaum, Karlsruhe, D
Ebony, Ovo Space, Cidade do México, MX
Exposições em grupo (seleção)
2018 The Lulennial II: A Low-Hanging Fruit, Lulú, México D.F., cur. Andrew Berardini e Chris Sharp
Enchanted Bodies / Fetish for Freedom , GAMeC, Galleria d'Arte Moderna e Contemporanea di Bergamo, IT, cur. Bernardo Mosqueira
Aprox., Condocomplex, Sadie Coles HQ, Londres, Reino Unido
2017 Resonanzen, ZKM Museum für Neue Kunst, Karlsruhe, D
20th Contemporary Art Festival Sesc_Videobrasil, Sesc Pompeia, São Paulo, BR
Pélamide, Gladstone Gallery, Bruxelas
Neither, Mendes Wood DM Gallery, Bruxelas
An ear, severed, listens, ChertLüdde, Berlim
Illusion and Revelation,Bonnefantenmuseum, Maastricht, NL
Pilger Mills, Kunstverein Nürnberg, Nuremberg, D
Jade Bi, Galeria Madragoa, Lisboa
S2: Independence Day II, Sommer Gallery, Tel Aviv, IL
The Finger That Shows the Moon Never Moons, Dan Gunn Gallery, Berlim
2016 Hyperconected – 5th Moscow Bienal for Young Art, Moscou, RS, cur. João Laia
As if in a foreign country, Galerie nächst St. Stephan R. Schwarzwälder, Viena, AT
Um die Ecke denken, Museum Haus Konstruktiv, Zurique, CH
What's The Riddle, Pi Artworks, Londres, cur. Övül Durmusoglu
XII Bienal Femsa Monterrey, Monterrey, México, cur. Willy Kautz
Corale, Frigoriferi Milanesi, Milão, IT
Before and After Origins, Al-Ma'mal Foundation for Contemporary Art, Jerusalém, IL
Marriage, Queer Thoughts, Nova York
Las Aves, Nixon, Cidade do México
Leaping Over a Bush to Surprise a Quail, ChertLüdde, Berlim, D
Sem saber quando virá o amanhecer, Galeria Silvia Cintra, Rio de Janeiro, BR
El que camina al lado, Galeria Travesia Cuatro, Madrid, ES
2015 Jungs, hier kommt der Masterpla, Kunsthalle Basel
Les Urbaines 2015, Espace Alraud, Lausanne, CH, cur. Samuel Leuenberger
Kunstraum Riehen, Riehen-Basileia, CH
Como fantasmas que vienen de las sombras…, ESPAC, Cidade do México, MX
Parallel Oaxaca, Supplement Gallery, Londres, Reino Unido
P420 Arte Contemporanea, Bologna, IT, cur. Chris Sharp
Hohenluft, Kunstverein Willhemshoehe, Ettlingen, D
Adam and Eve and the Devil, Marres, Maastricht, NL
The School of Nature and Principle, Elizabeth Foundation of the Arts, Nova York, EUA, cur. Emiliano Valdés
Six Positions in Painting, Galerie Bernhard, Zurique, CH, cur. Fabian Schöneich e Samuel Leuenberger
Bienal de las Fronteras, Museo de Arte Contemporáneo de Tamaulipas, MX
2014 Sometimes something happens, Galerie Fons Welters, Amsterdam, N L
A Special Arrow Was Shot In The Neck…, David Roberts Art Foundation,
Londres, Reino Unido (cur. Vivian Ziherl e Natasha Ginwala)
Autodestrucción4: Demolición, Thomas Dane Gallery, Londres, UK
(cur. Abraham Cruzvillegas)
Mark P works both ways, FRAC Provence-Alpes-Côte d'Azur, Marseille, F
ERNTE, Kunsthaus Baselland, Mutenz/Basileia, CH
Moules, Oeufs, Frites, The Ridder , Maastricht, NL (cur. Ardi Peols)
Roving Room, Habersham Mills, Demorest, Georgia, EUA
Van Eyck Open Studios, Jan Van Eyck Academie, Maastricht, NL
Dasdasdemdes, NO SPACE, Cidade do México, MX
2013 Magic Hour, The Ridder , Maastricht, NL (cur. Ardi Peols)
Six Memos fort he Next…, Magazin 4 – Bregenzer Kunstverein, Bregenz, AT
The Carrousel Collection, 45cbm Studioraum – Kunsthalle Baden-Baden, D
Jenseits des Rahmens, Kunstverein Freiburg, D
Regionale 13, Kunstraum Riehen, Riehen-Basileia, CH
Left Eye, Right Eye, V8, Karlsruhe, D
Mark Pezinger Verlag at Pioneer Works, Nova York, EUA
Wood(s), Z winger Gallery, Berlim, DE
I don't know, Vamialis Gallery, Atenas, GR
The Mystery of Intersecting Paths, HBK, Braunschweig, DE
2012 When Does Something Become…?, Walker Art Center, Minneapolis, EEUU
Regionale 13, Kunst Raum Riehen, Basileia, CH
La Distancia es el Material, New Museum of Contemporary Art, Guatemala
Reading Disorders, Kunstverein Kassel, Kassel DE
London's Calling and It's Calling You Gay, Preteen Gallery, Cidade do México, MX
O Tannebaum, Alte Saline Hallein, Salzburg, A (cur. Manfred Pernice)
Five in a Row, deuxpiece, Basileia , CH
AutoconßtrukSchön, Arratia Beer Gallery , Berlim, DE
2011 Les jeux sont faits, Hinterhof, Basileia, CH
Übermorgenkünstler II, Heidelberger Kunstverein, Heidelberg, DE
Se Amable, Centro Cultural de Cali, C
Ovo Host, National Museum of the Philippines, Manila, PH
Vänster, Kulturhuset, Stockholm, S
SiempreOtraVez, Museo Nacional de Arte Moderno, Cidade do México, MX
2010 Jahresausstellung, Akademie der Bildenden Künste Karlsruhe, D
Observar el Cielo, Café la Gloria, Cidade do México, MX
Actos Proféticos, Centro Cultural de Cali, Cali, CO
Work in Progress, Alberta College of Art and Design, Calgary , CA
Rules of Casual Sex, Galería de la Esmeralda, Cidade do México, MX
2009 ICE, Akademie der Bildenden Künste Karlsruhe, Karlsruhe, D
Texto es, Espacio Alternativo, Galería La Esmeralda, Cd. do México, MX
Very normal, Zürcher Hochschule der Künste, Zurique, CH
Trabajando, Museo de Arte Contemporáneo, Oaxaca, MX
Publicações
I am nothing, Heidelberger Kunstverein / Bom Dia Verlag, 2017
What is the moon?, Bonnefantenmuseum / Bom Dia Verlag, Berlim, 2014
How do you do?, VIS publications, Amsterdam, 2014
A Sense of Possibility , VIS publications, Amsterdam, 2014
Dutch Flat Things, Mark Pezinger Verlag, Berlim-Viena, 2014
Left Eye, Right Eye, Charles Nypels Lab, Jan Van Eyck Academie, Maastricht, NL, 2013
Marginalia no.1, harles Nypels Lab, Jan Van Eyck Academie, Maastricht, NL, 2013
Sculptures, Mark Pezinger Verlag, Berlim-Viena, 2012
Rodrigo Hernández: POT , Fluid Editions, Karlsruhe, 2012