16 de August de 2023
Panmela Castro opens exhibition in Rio with works created during artist residency in Senegal
Individual show will occuppies the second floor of Inclusartiz Cultural Center with several new works, among portraits, installation, documentary and clothing created by the artist during her stay in Dakar
On a journey in search of her African ancestry, visual artist Panmela Castro, from Rio de Janeiro,spent a month in Dakar, the capital of Senegal, where she participated in the artist residency Black Rock, by artist Kehinde Wiley, author of the famous portrait of Barack Obama on display at the National Portrait Gallery, in Washington, D.C. On her return to Brazil, in addition to the memories and lessons learned from one of her life's foremost experiences, Castro brought with her numerous original works that, from August 18, will be presented to the public in the exhibition Affective Drift: Dakar [Deriva Afetiva: Dakar], on the second floor of Inclusartiz Cultural Center, in Rio.
With the support from Instituto Inclusartiz, Panmela was the second Brazilian selected for the program. Before her, only Rafael RG (from São Paulo) took part in 2019. The disputed residency is aimed at visual artists, writers and filmmakers whose work is related to Africa. The project was created with the mission of fostering new artistic creation through collaborative exchange and inciting change in the global discourse about the continent's meaning today.
At the exhibition, which is curated by Lucas Albuquerque, responsible for the Inclusartiz Artist Residency and Research Program, visitors will be able to see a series of ten portraits (one of the artist's specialties) of local people who posed for her, including Kehinde Wiley, with whom she had the opportunity to live closely during her stay. According to Panmela, her work is very similar to that of the American artist. In addition to the theme (Africa, the diaspora), when portraying someone both are concerned with placing their subjects in a dignified position, creating a different image of people who were previously ignored.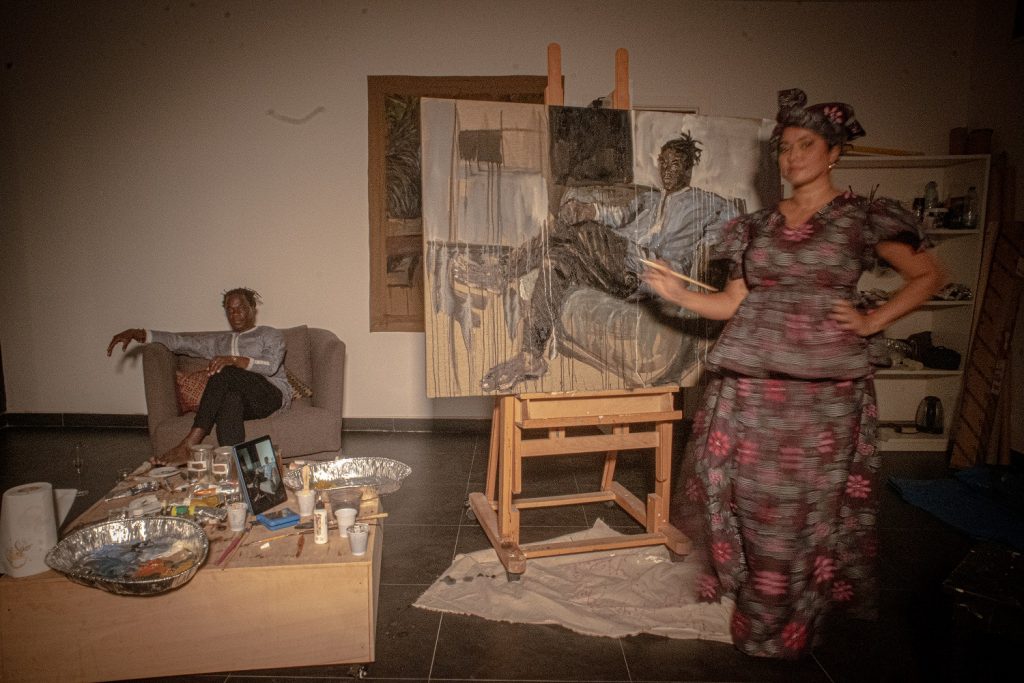 "I believe that dignity also speaks of identity and, therefore, I always name the paintings with the name and surname of the portrayed person, and I like the painting to have eyes, mouth, a well-defined face, that identifies who it is. After all, black people, women and transgenders have been deleted for a long time," says Panmela Castro.
According to the curator, the portrait was, throughout art history, a tool of power and distinction that immortalized some figures, mostly white, and reserved to oblivion narratives of peoples who were subjugated. "Panmela's work is not only to revert and rewrite this history for the present day and posterity, but to project it into an intimate relationship with the other. The viewer is invited to participate in that intimacy, mediated by the artist's quick and expressive brushstrokes," emphasizes Lucas Albuquerque.
In addition to the paintings, Panmela also created an installation consisting of 50 mirrors with portraits of African women, such as Al-Kahina, Anne Zingha, Kimpa Vita, Iyoba I dia, Ranavalona III, Margaret Affiong Ekpo, among others, whom she met during a visit to the Museum of Black Civilizations. "I reinterpreted a local tradition of painting on glass, but now on mirrors," she explains.
Her immersion in African culture also yielded a set of clothes, including dresses, turbans and trouser and blouse suits, designed by her and sewn by famous local tailor Mr. Mamadou Faye. "I bought the fabrics and created traditional African models with a contemporary touch of Brazilian fashion," says Castro.
The pieces, with various prints in African motifs, will also be shown at the exhibition, as well as a documentary with the artist's testimonials about each work. Completing the set of works is a series of photos with moments from the residency and the trip. In her foray into the diaspora, Panmela Castro was able to see and experience both sides of Africa: the luxury and deep Africa, its villages and native communities.
In her wanderings, the artist visited Gore Island, where is located the so-called "door of no return", through which enslaved people passed for embarkment and never returned; and she visited Casamance, in Seliky, where she spoke with the king of the Oussouye community about Brazil. "I asked him how, as an artist, I could contribute to stopping the black genocide in Brazil. He told me to act in a peaceful way, with faith, and he made a religious rite to open the ways for young Brazilians," she reveals.
Parallel programming
Asserting once again her role as a social activist, Panmela will also present at Inclusartiz Cultural Center, on August 26, as a parallel program to the exhibition, the film "Graffiti for the End of Domestic Violence." Produced by Rede NAMI, an organization founded by her which uses art to promote women's rights, the audiovisual production aims to contribute to the end of gender violence. The program will be followed by a drawing and painting workshop aimed at children.
SERVICE
AFFECTIVE DRIFT: DAKAR – PANMELA CASTRO
Opening: Friday, August 18, from 4 pm to 8 pm
Visitation: Tuesday to Sunday, from 11 am to 6 pm, until September 10
SCREENING OF THE FILM "GRAFFITI FOR THE END OF DOMESTIC VIOLENCE" + DRAWING AND PAINTING WORKSHOP
Date : Saturday, August 26, from 3 pm
Location: Inclusartiz Cultural Center – R. Sacadura Cabral, 333 – Gamboa, Rio de Janeiro
Free admission